CMC IS A PATIENT-FOCUSED HOSPITAL
Patient – focused medicine because we deal with patients, unlike any other company or institutions, that we provide all the needs of our clients in terms of their health. We have here different doctors specializing in different areas.
---
CMC IS LAGUNA'S PREMIERE MEDICAL CENTER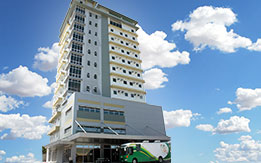 Centrally located in the heart of Laguna, Calamba Medical Center is Laguna's premiere Medical Center and a referral center for acute care. CMC is the one-stop Center. From the moment you arrive you will notice the warm welcome of staff ready to assist your every need, surely CMC you will feel the loving care and attention of a family. Nowhere in Laguna will you find our combination of quality medical care, service and affordability. CMC always understands your needs and is ready to provide you with quality healthcare and service.
CMC is Laguna's Premiere Medical Center, a modern 122-bed tertiary hospital , fully equipped to treat most major illnesses and injuries. With a staff on 24 hours a day and 7 days a week, CMC continuously delivers the highest quality health care services to Laguna's communities and beyond. From a one-level hospital with only 25-bed capacity in 1989, CMC today has the capacity to admit more than 10,000 patients deliver more than 1,200 babies, administer health services to more than 40,000 people, and we perform more than 8,000 surgical procedures.
It was established by a group of dedicated professionals in mid-May of 1989. It started as a one level secondary hospital with a 25 bed capacity. Two years after it started operating, the size of the hospital proved inadequate which prompted them to expand with another floor construction to accommodate additional hospital facilities. Barely another two years later a third level was constructed followed by the Annex Building to accommodate 110 bed capacity hospital.
The challenge in today's healthcare management is tremendous that CMC is committed to provide quality healthcare that meets and exceeds client requirements and expectations through continuous improvements of our services, resources and training programs. We maintain the highest level of performance to provide for the utmost quality care that our patients deserve.
---
CMC IS AN OPEN HOSPITAL
Unlike traditional hospitals, CMC does not require its doctors to invest in stocks. This allows the best doctors to practice without the worry of financial requirements. At CMC, both doctors and patients are given opportunities to grow healthy and full lives.
---
MEDICAL SPECIALTIES
Internal Medicine
Industrial Medicine / Corporate Health
General Surgery
Pediatrics
Ophthalmology
Physical Therapy & Rehabilitation
Otorhinolaryngology
Obstetrics & Gynecology
Perinatology
Pathology / Microbiology
Anesthesiology
Dental Medicine / Orthodontics
Neurosurgery
Alergiology
Thoraco-Cardio-Vascular Surgery (TCVS)‏
Urology
Psychiatry
Neurology
Dermatology
Nephrology
Developmental
---
CALAMBA MEDICAL CENTER MEDICAL ARTS BUILDING
1st Floor: Central Registration
2nd Floor: HMO Offices
3rd Floor: Diagnostic Center
4th Floor: Calamba Eye Center
5th Floor: Dialysis Center
6th-10th Floor: Doctors Clinic
11th Floor: Board of Directors Offices
12th Floor: Function Hall
---
DIAGNOSTIC SERVICES:
Digital X-Ray
Laboratory
Ultrasound
Pulmonary Function Test
Cardio Vascular (2D Echo)
Holter Monitoring
Ambulatory BP