ELECTROCARDIOGRAM:
ECG or EKG is a test that checks for problems with the electrical activity of your heart. It translates the heart's electrical activity into line tracing paper. At CMC, we only use high-end wireless digital ECG without thermal paper.
---

ECHOCARDIOGRAM
2D ECHO uses ultrasound to produce pictures of moving heart structures and blood flow. It can tell us the size of various heart chambers, how well the heart is pumping, and whether there are problems with the heart valves.
---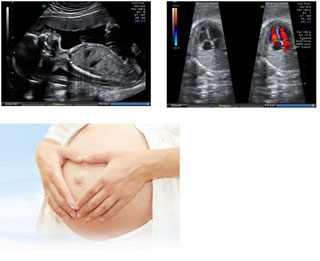 FETAL ECHOCARDIOGRAM
Fetal echocardiography is a test used to view your unborn baby's heart, similar to an ultrasound. Your doctor will order this test if he or she needs a better view of your baby's heart before delivery. This exam allows your doctor to view the structure and function of the fetus's heart.
---
STRESS ECHOCARDIOGRAM
Stress echocardiography is a test that uses ultrasound imaging to show how well your heart muscle is working to pump blood to your body. It is mainly used to detect a decrease in blood flow to the heart from narrowing in the coronary arteries
A resting echocardiogram will be done first. While you lie on your left side with your left arm out, a small device called a transducer is held against your chest. A special gel is used to help the ultrasound waves get to your heart.
Most people will walk on a treadmill (or pedal on an exercise bicycle).
Your blood pressure and heart rhythm (ECG) will be monitored throughout the procedure.
More echocardiogram images will be taken while your heart rate is increasing, or when it reaches its peak. The images will show whether any parts of the heart muscle do not work as well when your heart rate increases. This is a sign that part of the heart may not be getting enough blood or oxygen because of narrowed or blocked arteries.
---
STRESS TEST OR TREADMILL EXERCISE TEST
Used to provide information about how the heart responds to exertion. It usually involves walking on a treadmill at increasing levels of difficulty, while electrocardiogram, heart rate and blood pressure are monitored.
---
24 HOUR HOLTER MONITORING
Holter is a machine that continuously records the heart's rhythms. The monitor is usually worn for 24-48 hours during normal activity. It is used to determine how responds to normal activity.
---
24 HOUR AMBULATORY BP MONITORING
A machine that records and let the doctor find out what your blood pressure every ei. 15 to 30 minutes of a normal day (depending on the doctor's request). The information collected by this machine can help you and your doctor see if your BP treatment is working.
---
VASCULAR ULTRASOUND SCAN
It refers to the ultrasound examination of the body's circulatory system. This uses the Doppler phenomenon to study the speed and the volume of the blood flowing in your body.
Carotid Duplex scan
Arterial Duplex scan
Venous Duplex scan
---
ANKLE BRACHIAL INDEX
The ankle-brachial index test is a quick, noninvasive way to check your risk of peripheral artery disease (PAD). Peripheral artery disease is a condition in which the arteries in your legs or arms are narrowed or blocked. It compares your blood pressure measured at your ankle with your blood pressure measured at your arm.
---
Adult Cardiologists:
Emmanuel S. Lantican, MD
Monday, Wednesday, Friday (2PM-6PM)
Arnel B. Romeo, MD
Monday, Wednesday, Friday (9AM-12NN)
Enrique N. Banocnoc, MD
Tuesday, Thursday (9AM-12NN)
Saturday (2PM-5PM)
Noel Lapus, MD
Tuesday, Thursday (3PM-5PM)
Saturday (9AM-12NN)
Pedia Cardiologist:
Regente I. Lapak, MD
Wednesday (2PM-5PM)
---
---
CARDIAC CENTER SERVICES:
Digital ECG (Adult and Pedia)
2D Echo (Adult and Pedia)
Fetal Echocardiography
Stress Echocardiography
Treadmill Exercise Test/ Stress Test
24- hour Holter monitoring (Ambulatory ECG)
24- hour Ambulatory BP monitoring
Carotid Duplex scan
Venous Duplex scan (Upper and Lower extremities)
Arterial Duplex scan (Upper and Lower extremities)
Ankle Brachial Index (ABI)