ISO Certification
La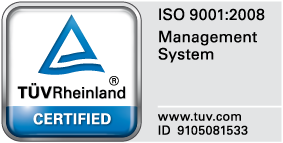 st December 12, 2014 as part of our 25th anniversary we are fortunate that another milestone was added worth to be remember, for our company was awarded the 9001-2008 certification.
ISO is the word that represents the International Organization for Standardization. It is not the acronym for the International Organization for Standardization as many people think. It is the worldwide federation of national standards bodies for approximately 130 countries.
The ISO 9001-2008 standards are produced by an international consensus of countries with the aim of creating global standards of product and service quality. These sets of standards form a quality management system and are applicable to any organization regardless of product, service, organizational size, or whether it's a public or private company. It plays a key role in winning new customers, maintaining satisfied current customers, accessing foreign countries and dealing with the government.
The certification was given by the representatives from TUV Rhineland, our ISO certifying body headed by Mr. Tristan Arwen Loveres (Chief Operating Officer), Ms. Pinky Zamora-Villacrusis (Marketing and Sales Senior Manager), and Ms. Melody Mokamad (Systems Senior Manager) and it was received by our CEO and President Mr. Jose O. Juliano. There were guests coming from the City Government who were grateful to be part a for the said event for our company was the First hospital in Calamba that was awarded such certificate Vice Mayor Roseller "Ross" Rizal, City Councilor Ruth Mariano-Hernandez, City Health Officer Dr. Dennis Labro and Mr. Jeffrey Rodriguez from the Public Affairs of the Mayor's Office.